Do not let the sound of these ingredients put you off, this recipe does not include a jar of Hellman's! We'll be making a "maionese" from scratch, which is really somewhere in-between mayonnaise and aioli. The sauce has a bouquet of complementary flavors that enhance the veal slices.
Origin
This is a traditional dish named Vitello Tonnato is from the Piedmonte region. Memorie di Angelina provides an in-depth discussion of the origin and different versions of this dish. It is interesting to note the origin of the mayonnaise came from the French influence, due to France's proximity to Piedmontese cooking. The dish is prepared slightly differently in other parts of Italy. In some areas, no "mayonnaise" is used, rather a creamy sauce is made from the tuna, olive oil, and some of the broth the meat is cooked in.
So all-in-all, it is hard to say what is "authentic," regarding Vitello Tonnato – it depends very much on where you are. We'll let the nonnas argue amongst themselves on this one.
Modifications
It is hard in the US to find the veal cuts of meats used in Italy: leg, top round, or eye of round. If you can't find it, this dish can be made with pork or even turkey. A pork loin cut is your best bet. Whatever you use, do not overcook. Use an internal meat thermometer to determine when to remove meat from simmering liquid.
Recipe
Veal with Tuna-Mayonnaise Sauce - Vitello Tonnato senza Maionese
August 29, 2017
: 8
: 45 min
: 3 hr
: 3 hr 45 min
: Easy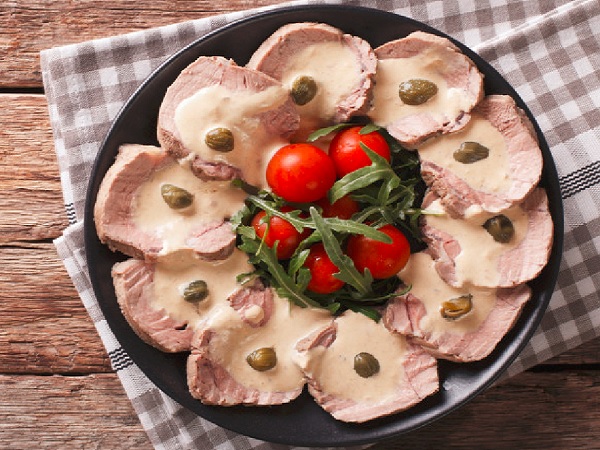 Ingredients
Veal
1 1/2 lbs (700 g) veal, top round preferred
3 tbs olive oil
3 bay leaves
3 sprigs thyme
2 sprigs sage
1 sprig rosemary
2 laurel leaves
3 garlic cloves
1 medium carrot, halved crosswise
1 medium yellow onion, quartered
1 stalk celery, halved crosswise
1 c dry white wine
3 tbs white wine vinegar
1 tbs grated lemon zest
salt & pepper to taste
Sauce
1 c olive oil
5 anchovy fillets canned, drained
1 can tuna in oil
3 hard boiled egg yolks
1⁄3 c capers
Garnish
1 lemon thinly sliced
1⁄4 c packed parsley leaves
capers
Directions
Step 1


In a pot large enough to cover the veal with water, add 3 tbs olive oil, garlic rosemary, garlic, onion, carrot, celery, laurel, bay leaves, thyme, and sage in the pot. Place trussed veal and brown the veal for 2 or 3 minutes per side on medium-high heat. Add white wine and allow to cook for another 3 or 4 minutes. Cover veal with water, bring to boil, and then reduce heat to a low simmer. Remove veal from the pot when internal temperature reaches 140°F (60C°). Allow the veal to cool.

Step 2


For the sauce, coarsely chop the tuna and 5 anchovy fillets, both drained of excess oil, and place in a food processor (or use an immersion blender). Add capers, lemon zest, vinegar, hard-boiled egg yolks, salt, and pepper, and blend until smooth. Slowly drizzle in olive oil until sauce is emulsified.

Step 3

Slice the veal about 1/8″ – 3/16″ (3 mm) and put it on a plate, spread the sauce over the veal. Garnish with capers and parsley. Note, you may julienne the cooked carrot and add it along with Italian parsley leaves as garnish.
Source: lacucinaitaliana.it