It's not every day I come across a cuttlefish recipe but we decided to give this one a shot and it turned out great. The Italian name of this dish – "Antipasto Mari e Monte" – translates to sea and mountains antipasto. Here, cuttlefish and shrimp represent the sea and mushrooms the mountains. This is a minimalist antipasto, its simplicity accentuates the flavors and textures.
Cooking Notes
Be careful not to overcook the cuttlefish! Like other cephalopods including squid or octopus, it will become really chewy when overcooked. Either too hot or too long, it will not be great. The same goes for shrimp, but that's a little more forgiving.
Modifications
Squid – cuttlefish and squid are pretty similar marine creatures, and can be interchanged in this recipe
Mushrooms – we used white mushrooms, but you can use any. Morels or oyster mushrooms would be great
Recipe
Cuttlefish, Shrimp & Mushroom Antipasto
September 1, 2017
: 4
: 10 min
: 20 min
: 30 min
: Easy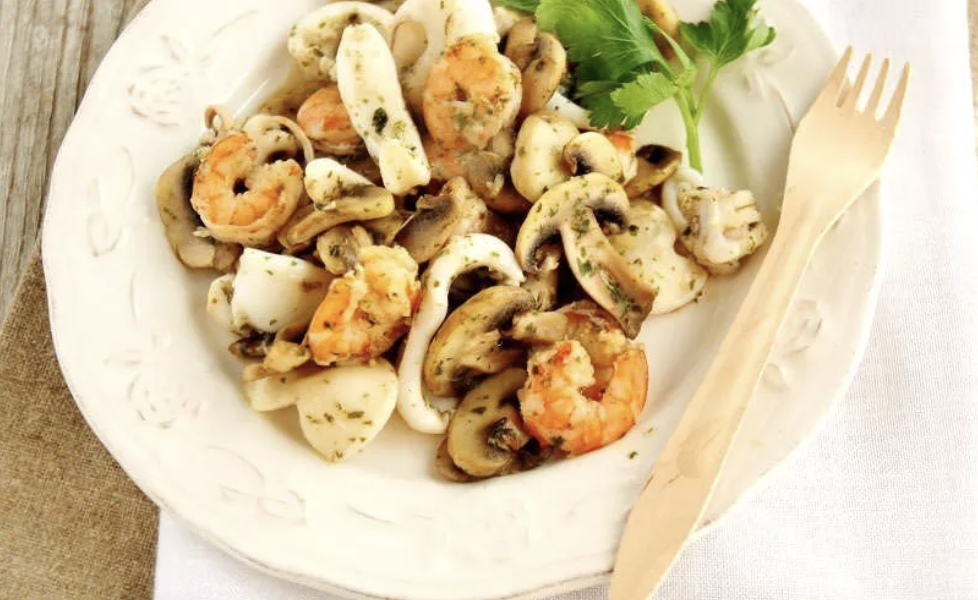 Ingredients
6 oz (150 gr) White mushrooms
6 oz (150 gr) Shelled shrimp
6 oz (150 gr) Cuttlefish (or squid)
4 oz (120 ml) White wine
1 tbs Chopped parsley
2 garlic cloves peeled
2 tbs Extra virgin olive oil
salt & pepper to taste
green peppercorns (or white peppercorns) to taste
Directions
Step 1

Over low heat, in non-stick frying pan, warm garlic cloves and olive oil.  Do not let the garlic burn.

Step 2

Stir in cuttlefish and chopped parsley.  Cook on med heat for 5-minutes.

Step 3

Add sliced ​​mushrooms and continue cooking for 10-minutes over low heat mixing frequently.  Let about half the liquid evaporate.

Step 4

Pour in the wine and stir in shelled shrimps, salt, and green peppercorns, cooking for about 5-minutes or until about 1/2 of the liquid evaporates.  Transfer from pan to serving dishes, and sprinkle on pan drippings.
Source: 
Ricettedellanonna.net