Pasta with mussels and lentils is a hearty first course for those who are fond of mollusks and need a good dose of fiber! It also is a dish that will require some time and effort. You'll need to cook the lentils after soaking them overnight as well as steam the mussels before adding them to the pasta at the end of the recipe.
Pasta
Fresh pasta is best for this dish. We're already getting some bite from the lentils, so the al dente isn't necessary. Homemade trofie would be a perfect pasta shape. Cavatappi would be great too – let the lentils get stuck in the curls.
Modifications
Tomatoes – cherry is ideal, but grape, pear, chopped roma, or whatever kind you can get your hands on that are ripe and have some flavor and acidity.
Wine – a small amount of dry white wine could be added
Pasta with Mussels and Lentils
June 28, 2017
: 4
: Medium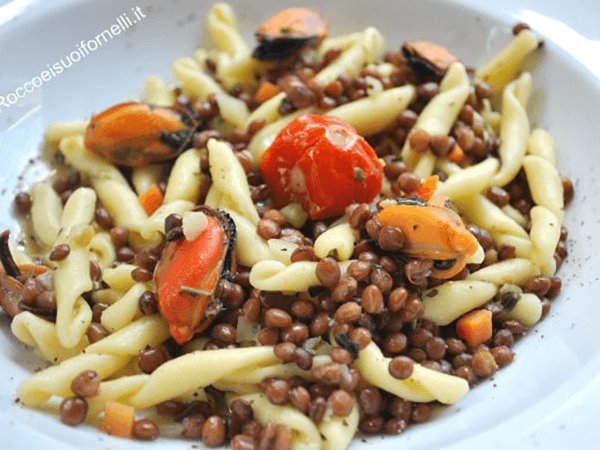 Ingredients
1 lb fresh pasta
1 c dried lentils
1 1/4 lb mussels
8 large cherry tomatoes
1 garlic clove
extra virgin olive oil
1 parsley bunch
salt
pepper
Directions
Step 1

Cook the lentils in the classic way after soaking overnight, (with very finely chopped onion, carrot, and celery, adding garlic, cloves, salt, pepper, and bay leaves).

Step 2

Steam the mussels, remove from the shell and set aside with their liquid (check https://peimussel.com/get-cooking for detailed cooking instructions.)

Step 3

In a large frying pan, add olive oil and an unpeeled garlic clove, cherry tomatoes, and lentils. Cook until thoroughly warmed. Add the shelled mussels and stir well. Cook the pasta in plenty of salted water (fresh homemade pasta is best). Drain the pasta as soon as it is ready and add it to the frying pan, along with some mussel water.  Lastly, add a handful of chopped parsley and fresh pepper.

source  Roccoeisuoifornelli.it