From the Liguria region (northwest Italian coast, with Genoa as its capital), this ravioli features "bitter" greens that are tempered with ricotta and pine nuts and walnut, milk based-sauce. The name for this special variety of ravioli is Pansotti (or alternately Pansotti).
The greens stuffed into the ravioli are called "preboggion" in recipes today. The story is that some crusaders during a stop in the march were gathering herbs to prepare a frugal meal for their lord, Goffredo di Buglione. They called this bunch of herbs "pro Boggion" in Latin which later became preboggion. In our dish, we'll use swiss chard and borage as our preboggion but there is a lot of room to use what you like.
This recipe certainly takes a while to make, but if you're a fan of greens it will be worth the effort.
Modifications
Preboggian – The greens used in this dish can be replaced with many, many things. You can use other herbs such as chicory, arugula, chervil, spinach, dandelion, or even cabbage. While swiss chard is fairly common now, borage is a green that is likely to be difficult to find in the US. Feel free to use whatever greens are readily available. Also, you don't need to stick to just 2 greens – you can pick half a dozen as long as the flavors mix well
You can alter the shape of the pansotti. Feel free to experiment, make them bigger by cutting them into circles, or stars using cutters, or larger 5" (13 cm) squares.
Storing Leftovers
It is preferable to consume freshly prepared pansotti. However, you can keep them in a sealed container in the refrigerator for several days. You can simply reheat them in a non-stick frying pan. You can also freeze them. Cook them frozen in boiling water, for 7-9 minutes. The walnut sauce can be stored in the refrigerator for up to 4-5 days (freezing is not recommended).
Pansotti
August 7, 2017
: 4 - 6
: 30 min
: 2 hr
: Moderate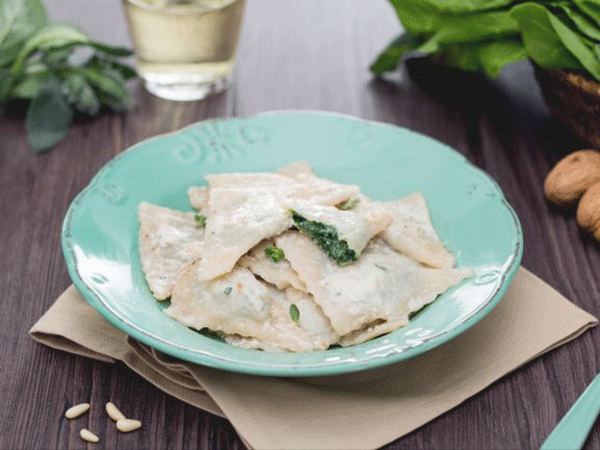 Ingredients
PASTA
2 1/3 c (300 g) 00 Flour
½ c (120 ml) White wine
½ c (120 ml) Water at room temperature
FILLING
14 oz (400 g) Swiss chard
14 oz (400 g) Borage (may substitute any leafy greens)
7 oz (200 g) Sheep's milk (or whole milk) ricotta
2 Medium eggs
2 oz (50 g) Grated Grana Padano (or Parmigiano-Reggiano)
Salt & pepper
Marjoram
2 Garlic cloves
3 tbs Extra virgin olive oil
SAUCE with NUTS
1 ½ c (160 g) Walnuts nuts
1 Garlic clove
1 oz (20 g) Pine nuts
¼ c (30 g) Grated Parmigiano Reggiano
2 tsp (4 g) Marjoram
1 slice (30 g) Dried Italian bread
2/3 c (160 ml) Whole milk at room temperature
Directions
Step 1

Pasta. Take a large bowl and add sifted flour (1), white wine (2), and room temperature water (3).

Step 2

Thoroughly mix the ingredients with your hands (4). When you get a homogeneous, smooth mixture, mold it into a ball, cover it with cling wrap and let it rest in the fridge for at least 30 minutes (5). :FILLING. Take a fine mesh strainer, place it over a bowl, and put in the fresh ricotta cheese. After the liquid drains, cover with Saran wrap and place in a refrigerator (6).

Step 3

Separate 1st green's stems from leaves (7). Do the same for the 2nd greens (8). Rinse all the leaves under running water (9).

Step 4

Pour 4 ½ tsp olive oil into a non-stick frying pan and add the garlic clove and a pinch of salt to taste (10). Add the 1st green's leaves, and cover (11). Let them cook until they dry out some, 6-7 minutes, stirring occasionally, then remove garlic (12).

Step 5

Transfer the leaves into a fine-mesh strainer resting on a bowl (13). Let them drain so they lose water. Repeat the operation with the 2nd bunch of greens. Take a non-stick frying pan, and add the remaining olive oil, a garlic clove, and the greens (14). Add a pinch of salt to taste. Cover and let cook until dry, 6-7 minutes.  mixing occasionally. Then remove the garlic (15).

Step 6

Place the cooked greens in a fine-mesh strainer resting on a bowl, and allow it to release any remaining water, lightly pressing to make sure all the water is removed(16). Finely chop the greens (17). Transfer greens back into the strainer for final water draining (18). Allow them to cool to room temperature (this is important to prevent the filling from making the dough too soft when filling).

Step 7

In a large bowl, add eggs, salt and pepper to taste, and then whip the eggs with a hand whip (19). Take the ricotta from the fridge and sieve it in the bowl (20). Mix the ingredients with the hand whip until you get a smooth and homogeneous cream (21)

Step 8

Add marjoram to taste (22) and grated cheese (23) along with the cooked and drained vegetables (24).Mix well with a spatula to get a homogeneous mixture. Set the filling aside.

Step 9

Sauce with Nuts. Take a tall pot, fill it with water and bring it to a boil. Scald the walnuts for 5-minutes to soften the outer coating (25). Remove the walnuts from the water with a scoop, place them on a clean towel to drain a bit, then wipe away most of the outer coating. (26). Prepare the bread by placing a slice of Italian bread in the oven at 350 F (200 C) for about 15 minutes (until dried and slightly crispy, not toasted), and let cool. Crumble the dried bread slice in a bowl and add milk (27).

Step 10

When the crumbled bread has soaked up the milk and is soft, drain by lightly pressing a spatula or spoon on the bread in a fine-mesh strainer over a bowl to collect the excess milk, (28) and place the milk-soaked crumbled bread aside. Put the walnuts in a blender with the softened bread (29). If you prefer, you can also use the mortar. Combine the pine nuts and grated cheese (30).

Step 11

Add garlic and marjoram to taste (31) and season with salt and pepper. Run the blender to mix the ingredients, adding a bit of the leftover milk (32). Continue to blend the ingredients until you get a creamy mixture (33). Then place aside.

Step 12

Now take the dough that has been resting in the fridge and place it on a lightly floured rolling surface. Roll it out into a thin sheet with a rolling pin or pasta machine. (34). Cut 2 3/4″ to 3″ squares with a cutting wheel. (35). Place some filling in the center, taking care to leave a border of about 3/8 inch with which to seal the pansotti (36).

Step 13

Brush the edges of the pasta squares with water (37) and close the pansotti to form a triangle (38), exerting a slight pressure with the fingers on the edges to properly seal and prevent filling from spilling out during cooking. Place the pansotti on a lightly floured tray and cover with a damp cloth (39)

Step 14

Using a large pot filled with water, add salt and bring to a boil. Add the pansotti and cook for about 4-5 minutes (40). When they rise to the surface, the pansotti are ready. Place in a serving dish with a small bit of the water they were cooked in. Warm the vegetable, nut, and cheese sauce in a saucepan, then pour the sauce over the pansotti. (41), Mix well to flavor and serve immediately (42).
source: Giallozafferano.it