This classic bolognese lasagna recipe was developed as a combination of several different recipes I've found on Italian blogs. Each has variations in proportions and herbs. This recipe reflects my personal tastes, but feel free to adapt to suit your tastes.
Fresh Lasagne Noodles
There's nothing wrong with using dried lasgana noodles. If you're not comfortable making your own, don't sweat it, this will turn out great.
I really enjoy making pasta by hand, so I made spinach pasta sheets which really added an incredible flavor. This is now my favorite type of lasagna. If you are making your own, you can certainly omit the spinach if you know that's not your cup of tea, but I recommend it highly. Regardless of the style of pasta, I am sure you will find this lasagna recipe a real winner.
Storing Leftovers
The stuffed pork stores well, for several days, in a tight container in the refrigerator. When warming up, take care not to dry out the pork too much. Warming in a covered skillet, with a little olive oil in the bottom works well.
Recipe
Lasagne alla Bolognese Classiche
December 7, 2018
: 4 - 6
: Moderate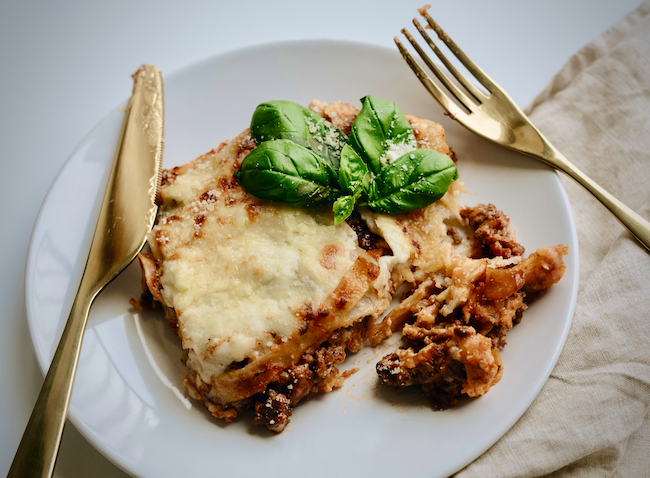 Ingredients
Bolognese Sauce
Pancetta cubed
12 oz (340 g) Ground beef
12 oz (340 g) Italian sausage
1 med Carrot
1 med Celery stalk
1 med onion
10 oz (280 g) Tomato sauce)
½ c (125 ml) White wine
6 – 8 Basil leaves
2 Sage sprigs
2 Rosemary sprigs
1/2 c (10 g) Italian parsley
3 Garlic cloves
1/3 c (80 ml) Olive oil
Salt to taste
Pepper to taste
Lasagna Spinach Pasta
2 ¾ c (350 g) – 3 ¼ c (400 g) 00 Flour (or All Purpose)
3 Eggs
14 oz (400 g) Baby Spinach Leaves
2 tbs (30 ml) Olive oil
2 c (200 g) Parmigiano Reggiano grating cheese
Italian Besciamella
½ c + 2 tbs (75 g) 00 Flour (or All purpose)
5 ½ tbs (75 g) Butter
to taste Nutmeg
pinch Salt
pinch White pepper
Directions
Step 1

Bolognese Sauce: Assemble the Bolognese-sauce ingredients.
(1) Cube the Pancetta.
(2) Add, Pancetta, garlic, and olive oil to a deep skillet, using low heat to render the Pancetta fat.
(3) Finely chop the onion, celery, and carrot, add to the skillet and sauté until onions are translucent – be careful not to burn.
(4) Add the ground beef and sausage and thoroughly brown.
(5) Add tomato sauce, herbs, wine, salt and pepper.
(6) Note: Using only tomato sauce requires a longer cooking time to ensure some of the tomato liquid evaporates: you can optionally add 2 tbs of tomato puree to thicken the sauce, and reduce cooking time. I prefer to let the sauce cook for two to three hours to incorporate all the ingredient's flavors rather than a shorter cooking time with the tomato paste.

Step 2

Spinach Lasagna Pasta: Steam the spinach until it is thoroughly cooked and then chop. Place chopped spinach on paper towels and squeeze to remove as much liquid as possible.
(7) Form a well with flour, add eggs and olive oil, and add spinach.
(8) Mix all ingredients and then knead the dough and form into a ball.
(9) Tightly cover with cling wrap and set aside in the refrigerator for a minimum of 30 minutes. One hour or more is preferable. Roll out the dough to 1/16th to 1/8th inch or run it through your pasta machine (I step down through the settings until I reach the 2nd to thinnest setting.
(10) When you first roll out or run the dough through the pasta machine, add some additional flour to the dough it sticks.

Step 3

To cook the pasta, add the sheets to rapidly boiling, salted water. Cook for 1 ½ to 2 ½ minutes.
(11) Remove from boiling water and place in ice water to stop the pasta from cooking.
(12) Remove the pasta from the ice water, drain as well as possible, and pat with a paper towel to remove excess water.
(13) Layer pasta sheets with wax paper separating layers.

Step 4

Besciamella:
(14) Pour the milk into a heavy-bottomed pan and slowly heat on low-medium heat. Do not let the milk come to a boil (it is warm enough when bubbles start to form). Melt butter in a heavy-bottomed pan. Be sure to keep the heat low, and avoid burring the butter or allowing it to darken. Add flour to the butter and mix together thoroughly while warning for about 2 minutes. Be sure to keep the butter-flower mixture from browning or burning. Add warm milk a little at a time, constantly stirring with a whisk until well blended and all the milk is added. Be patient, the sauce will eventually thicken within 15 minutes. When it is ready, the sauce should coat the whisk, and its consistency should be similar to pancake batter.

Step 5

Assemble:
(15) Arrange the three ingredients and line your baking pan with parchment paper.
(16) Add a thin layer of Bolognese sauce and Besciamella, and thoroughly mix together to cover the bottom of the pan. Add grating cheese liberally.
(17) Place a layer of lasagna sheets to cover the base layer. Feel free to cut pieces of sheets to fit the pan size.
(18) Repeat with a second layer of filling adding grated cheese and covering with lasagna sheets.
(19) Continue until the pan is filled (six or seven layers depending on the depth). You may prepare the lasagna a day ahead of time. Cover the pan with cling wrap or aluminum foil and keep in the refrigerator. Bake lasagna at 350 F for 45- to 60-minutes, depending on whether it is fresh made or cold from the refrigerator. You can check it in the oven, when you see the sauce and cheese bubbling, it hot enough to serve.