If you love eggs like I do, you're going to really enjoy this recipe for Frittata Cannelloni.
Origin of Stracci di Antrodoco
This dish originates from an exceedingly scenic and old town named Antrodoco in the Lazio region of central Italy. The Italian name of this dish translates in English to "Rags of Antrodoco". I don't know about you, but "rags" is not a very appealing name for anything I want to eat. The name is a reference to a perhaps passing resemblance of the thin frittata to a rag. We'll just call it "Frittata Cannelloni" and move on.
Frittata
Stracci di Antrodoco is fairly similar to any cannelloni you've ever made except for one key difference – instead of being made with pasta, the folks in Antrodoco decided to use thin, crepe-like frittatas. We like calling out modifications to recipes in this blog, and they really stepped up their game for creative replacements.
Passata
The recipe calls for Passata. Passata is made from uncooked, strained tomatoes that have the seeds and skin removed. We have a recipe for making homemade passata, or you can buy it in an Italian deli, or substitute tomato puree.
Frittata Cannelloni - Stracci di Antrodoco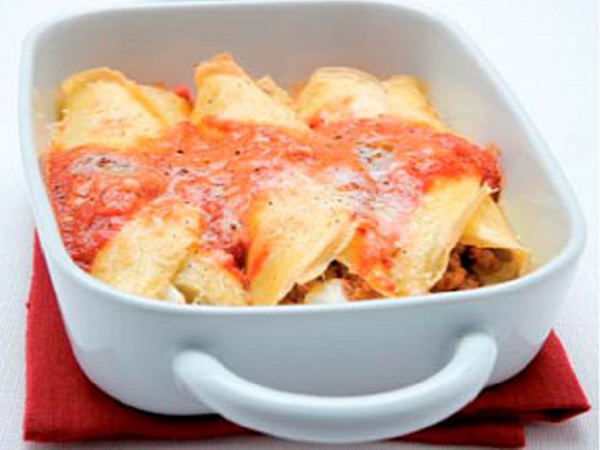 Ingredients
FRITTATA:
3 Eggs
1/2 c Flour
3 1/2 oz Water
Salt
STUFFING:
12 oz Veal (or meat of your choice)
4 oz Fresh Mozzarella
1 tbs Butter
2-3 tbs Passata (strained tomatoes)
2-3 tbs Olive oil
Salt
Pepper
SAUCE:
1 c Passata
1 Celery stalk
1 Carrot
1/2 Onion
1 c Grana Padano grated
Oil
Salt
Pepper
Directions
Step 1

Prepare the filling: in a frying pan, heat 2 to 3 tablespoons of oil, add the minced veal, salt, pepper, butter, and 3 1/2 cups of tomato passata, cook for 10 minutes and set aside.

Step 2

  Prepare the frittata batter: in a bowl mix the eggs lightly beaten with flour, water, and a pinch of salt, and let the batter stand for about an hour.

Step 3

For the sauce: in a pan, heat two tablespoons of oil, combine finely chopped vegetables, add the passata (strained tomatoes), salt & pepper, and cook for about 20 minutes.

Step 4

  Assemble: In a non-stick frying pan, pour a scoop of frittata batter and cook on both sides. Place the frittata on the worktop, for each of them, sprinkle some grated Grana Padano, 1 or 2 spoonfuls of meat, thin mozzarella slices, and a spoonful of passata. Roll them into a cannelloni and align them in one layer in a baking dish. Pour the passata over the top and sprinkle on the remaining grated cheese. Bake at 375° for about 10 minutes.
source: Cucchiaio.it
Photos