Alla contadina means cooking as done by "peasants," or people living in the countryside where local vegetables and herbs are used to braise meats. In this recipe, Pork chops are sautéed in a thin "sauce" formed from aromatic herbs, garlic, and tomatoes. It's very simple and very delicious.
Cooking Notes
You've certainly had an overcooked pork chop before – it's very easy to do and usually ruins the dish. Get a digital meat thermometer and pull those chops off once you see them hit 145°F (63°C). You could probably pull it off a bit before (maybe 142°) because it will keep going up a bit after you take it off the heat.
Modifications
Pork Chops – not everyone loves them and that's ok. You can readily replace them with veal or mutton chops, pork tenderloin medallions, or even chicken or turkey breast.
The breading of the pork chops is generally a nice touch, but you could just as well omit that and leave them naked
There are a handful of small tomato varieties you can use in place of cherry tomatoes, but if you don't have your own garden then grape tomatoes are the most likely available substitution. Pear tomatoes are also excellent if you can find them.
Recipe
Country Style (Peasant) Pork Chops
August 8, 2017
: 4
: 10 min
: 35 min
: 45 min
: Easy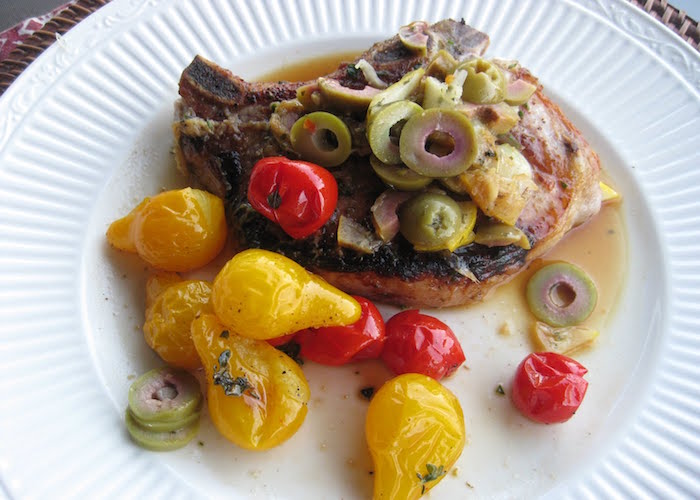 Ingredients
4 Pork chops
8 oz (200 g) Cherry tomatoes
4 oz (100 g) Greek olives
Sage leaves
1 Rosemary sprig
1 garlic clove
Flour to coat chops
2 Medium eggs
3 tbs Extra virgin olive oil
Salt
Pepper
Directions
Step 1

Wash and dry the rosemary sprig and sage leaves and finely chop. Finely chop the garlic clove and add to herbs.


Step 2

Pour olive oil into a frying pan, add the herbs and garlic mixture, and cook for a few minutes with low heat to a golden color, without burning.


Step 3

Beat eggs and place in a bowl. Place the flour in a dish, dip the pork chops in the eggs first, and then flour on both sides. Add the coated pork chops to the pan, and cook gently.


Step 4

Add the chopped tomatoes, olives, salt, and pepper and continue cooking until done.


Step 5

Place the chop on a serving dish, then scoop tomatoes, herbs, and cooking liquid on top and serve hot.
source: Buonissimo.org