A Wow Italian Food original, we've recently come up with this stuffed pork loin recipe. An incredibly flavorful spinach, herb, and goat cheese stuffing in thick-sliced center-cut pork loin. All of this is breaded and crisped in a skillet prior to baking. This is a recipe that can be easily adapted with a variety of stuffing ingredients and fresh herbs that suit your tastes. I placed bite-sized pieces of russet potatoes in the baking pan with the pork. The potatoes were deliciously flavored from the pork drippings.
Recipe Notes
Bread Crumbs
Breading is a key part of many Italian recipes. If I have time, and a good loaf of Italian bread, I prefer to make my own. Preferably drying out the bread for a day or so, or if less time is available, drying it out in an oven, at about 275° F, being careful not to overly toast. My preference is to add fresh basil and Italian parsley, along with some grated cheese, typically Romano. Sometimes I like to add fresh sage. Of course, other herbs can be added depending on what you will be breading, and your personal tastes.
Storing
The stuffed pork loin stores well, for several days, in a tight container in the refrigerator. When warming up, take care not to dry out the pork too much. Warming in a covered skillet, with a little olive oil in the bottom works well.
Modifications
Stuffing Options
This is a recipe for stuffed pork loin, and there are about a million things you could stuff in it.
You may use whatever greens you prefer as a substitute for spinach. I love the peppery taste of arugula. Baby kale would probably be great too.
Similarly, any soft/melty cheese may be substituted – mozzarella would be an obvious option.
To add some crunch, a variety of nuts would make a nice addition. I am fond of pine nuts and almonds. You might experiment with some different flavors, (e.g., green olives, boiled chestnuts, sun-dried tomatoes, etc.), or anything you think might add a nice accent.
If you want to take this in a meat lovers direction, you could also stuff it with meat! Diced, crispy Pancetta or Guanciale would be excellent.
Toppings
Any vegetables sautéed in olive oil and garlic will work. A light tomato-based sauce will work. You might want to try a light cheese sauce made from the same cheese you use for the stuffing.
Fette di Lonza di Maiale Impanate con Ripieno di Spinaci, Formaggio di Capra e Erbe
February 14, 2018
: 6 Pork Loin Slices
: 25 min
: 40 min
: Easy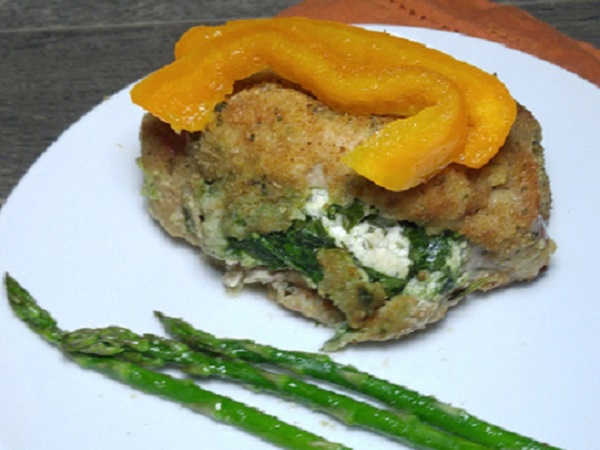 Ingredients
6 1"– 1½" Pork loin slices (or pork chops)
3 c (90 g) Spinach (at least two cups when chopped)
6 oz (170 g) Goat's cheese
6 – 8 Basil leaves
1 Sage sprig
1 Rosemary sprig
1 c (25 g) Italian parsley
3 Garlic cloves
1/3 c (80 ml) Olive oil
2 Eggs
1 c (45 g) Bread crumbs
1/2 c (60 g) Flour
Salt to taste
Pepper to taste
Directions
Step 1

Stuffing:
Chop the spinach and parsley (1) medium course (2). This should result in a minimum of two cups. Then finely chop the herbs (3). Mince a garlic clove and add to the mixture (4). Note: I prefer a strong garlic flavor which is provided by the raw clove. If you prefer a milder garlic flavor, sauté the garlic clove in olive oil before mincing.

Step 2

Finally, crumble the Goat cheese, add to the other ingredients, thoroughly combine and set aside. (5)

Step 3

Pork: I used center-cut, boneless pork loin, pre-sliced at the meat counter to about 1¾" – 2" thick. I would recommend slightly thinner slices, in the 1" – 1½" range before you cut the pocket. You can also use pork chops. Slice a pocket in the pork loin. You should leave three sides of the pork slice intact. Cut down the middle. Do not cut all the way through, leave about ½" uncut. (6)

Step 4

Pack the pork slice with the stuffing that you prepared (7). You can pack it in tightly. Close the pork slice and secure with 3 or 4 toothpicks (8). Push one end of the toothpick nearly all the way through the second side. Break off the remaining part of the toothpick from the entry side. The closer it is broken off, the easier it will be to flour and bread the pork slice.

Step 5

Breading: Lay out in separate dishes flour, beaten eggs, and bread crumbs. (I like Progresso Italian seasoned bread crumbs if I do not have the proper bread or time to make my own.). Dip the pork slice first in flour, then eggs, and finally coat with bread crumbs. (9)

Step 6

Brown the bread crumbs in a skillet with olive oil and a garlic clove on medium heat (10). The purpose is not to start cooking the pork, but rather to brown and crisp the bread crumbs. This only takes a minute or two.

Step 7

Baking: Remove the pork from the skillet and place it in a baking pan coated with olive oil. Bake at 350° F for about 40 minutes, depending on the thickness of the pork slice(11). Check the temperature, the pork will be done when it reaches an internal temperature of 145° F.

Step 8

Let stand for 5 – 10 minutes. Your stuffed pork slice is now ready to garnish and serve with your favorite vegetable.