You've had it more times than you can count, and you love it every time. This is a traditional Tiramisu recipe with a kick — a nice little dash of Amaretto. Feel free to substitute your favorite Italian liqueur, brandy, cognac, or rum — I'm partial to Frangelica.
Tiramisù
July 1, 2017
: 6
: 30 min
: Medium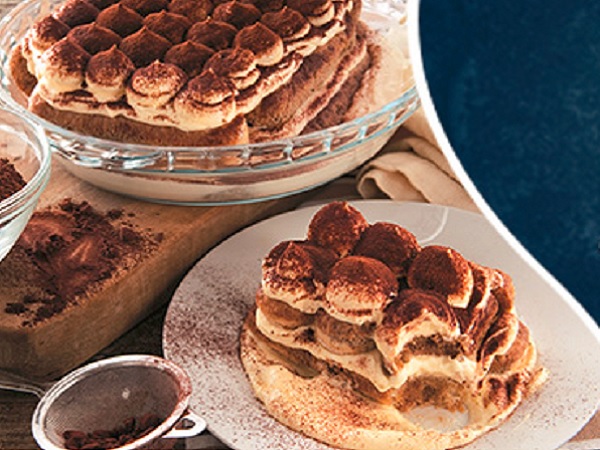 Ingredients
6 Eggs
18 oz (500 g) Mascarpone
2/3 c (150 g) sugar
11 oz (300 g) Savoiardi biscotti (or 'Lady Finger' cookies) enough for 2 layers
12 oz (350 ml) coffee, preferably espresso
2 oz (50 ml)Amaretto (or your preferred liqueur)
1/2 c (65 g) Bitter cocoa powder
Directions
Step 1

Before you start preparing the recipe, take the Mascarpone out of the fridge about 30 minutes before preparation. Let the eggs reach room temperature before using. 

Step 2

Separate the egg whites from the yolks and put them in two separate bowls. Add 1/2 of the sugar 1/3 cup (70 g) to yolks. Beat the yolks until smooth and creamy. Add Mascarpone to the beaten yolks a little at a time and beat until it is a soft and homogeneous cream. 

Step 3

Beat egg whites for 1 minute, continue beating while sprinkling in the remaining sugar (less 2 1/2 tsp for step 4). Beat until mixture is firm and will remain in bowl tipped upside down. 

Step 4

Add the egg whites and Mascarpone mixture to the yolk compound. Delicately fold together, mixing everything from bottom to top, retaining fluffiness. Put the cream in the refrigerator to cool until ready to assemble. 

Step 5

In a small bowl large enough to dip the ladyfingers, add 2 1/2 tsp (10 g) of sugar, the liqueur, and coffee and mix well for the cookie bath.

Step 6

Using a pastry bag, put down the 1st cream-mixture layer in a baking dish. Dip the ladyfingers (biscotti) into the bowl and lay on top of the cream.  Repeat with cream and ladyfingers for a second layer. Top with remaining cream mixture, forming mounds for eye appeal

Step 7

 Place the Tiramisu in the fridge for at least two hours.

Step 8

Shortly before serving, sprinkle the surface with bitter cocoa powder.
Video guide — in Italian but helps with preparation.
Source: Galbani.it