A chocolate lover's delight! Chocolate terrine includes both white and dark chocolate, topped off with raspberries and whipped cream. The best part – there's no baking involved
Terrina di Cioccolato
August 28, 2017
: 8
: 45 min
: 3 hr
: 3 hr 45 min
: Easy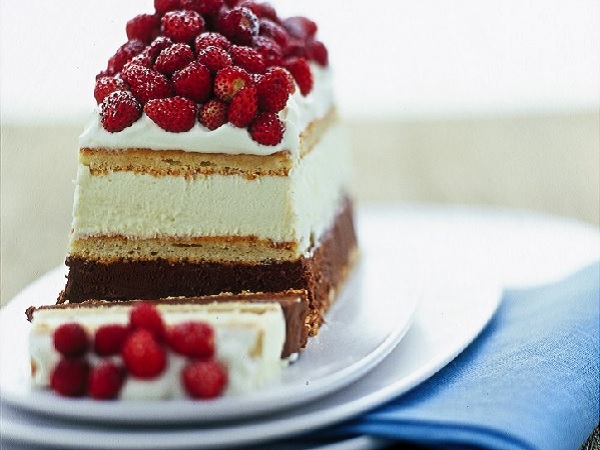 Ingredients
3 oz (80 g) Cane sugar
Icing sugar (enough to sprinkle on top)
5 1/2 oz (150 g) White chocolate
6 1/2 oz (180 g) Dark chocolate
2 1/2 tbs (20 g) Flour
3 Egg whites
8 oz (250 g) Rasberries
3/4 c (100 g) Crushed almonds
14 oz (4 dl) Cream (20% fat)
Directions
Step 1

The Base: Beat egg whites until stiff. In a bowl, add stiff egg whites, sugar, crushed almonds, flour, and mix thoroughly.


Step 2

2) Take a 9″ x 13 x 2″ (33cm x 23 cm x 5 cm) baking pan lined with parchment paper lightly sprayed and spread with oil (e.g., Coconut oil if you can find it, Pam olive oil works too) and then pour the mixture and bake at 400° F (200° C) for 20 minutes.


Step 3

The Cream: While the terrine base bakes, divide the cream in half in two containers. Break the white chocolate and melt it in a pan with 1 tbs of cream from one of the containers, until lukewarm, then add the remaining cream from that container and stir until thoroughly mixed.


Step 4

Do the same for the dark chocolate in a separate pan using the remaining container of cream. Put both mixtures in the fridge for about 15 minutes.


Step 5

Take a 8″ x 4″ x 3″ (20cm x 10 cm x 7 cm) loaf pan and line with parchment paper to facilitate removal. Lay a piece of the baked almond-dough base cut to size in the bottom of the pan.


Step 6

Whip the chilled dark chocolate compound and then pour on the bottom layer over the almond dough. Cover it with another piece of baked almond dough, then pour in the white chocolate compound. Finish with the third piece of baked almond dough on top. Place the dessert in the refrigerator for 3 hours.


Step 7

Once solidified, remove from the loaf pan and decorate with whipped cream and fresh raspberries.


Step 8

Sprinkle the terrine with icing sugar and serve immediately.
Source: Salepepe.it