I found this recipe on an Italian recipe site under the title of "Passeggiando tra i Monti Lattari" which translates to "Walking through the Lattari Mountains". Very poetic name! Quite a poetic dish as well. The star of this dish is the corbarino tomato, a small sweet variety grown on the slopes of Mount Lattari just north of the Amalfi coast. The sauce is complimented by a provolone fondue and three forms of basil.
This dish is prepared in 4 main parts…
Provolone Fondue
When I think of fondue, my first thought is the ceramic bowls and extremely long forks from the 70's. Fortunately, that's not what we're up to here. We just need to turn a solid cheese into a liquid cheese.
The general process of making fondue is to use a double boiler to slowly raise the temperature of a combination of cheese, cream, and milk. We add fresh black pepper as well. It's important to make sure the temperature isn't too high (low to medium-low should be good) and to stir constantly to avoid burning the mixture. Rather than a double boiler, I have a small pot that a glass bowl rests in about halfway into the pot. I found the shape of the bowl makes stirring the mixture quite easy.
This recipe originally calls for Provolone del Monaco – which is an amazing, but pricey (and rare) type of Provolone. It melts well and has some interesting flavor characteristics owning to the requirements for its production. It must be made only from the milk of agerolese cows and from the milk obtained in ideally one but no more than two separate milking sessions. You can find a full description of Provolone del Monaco at the DOP Italian Food website.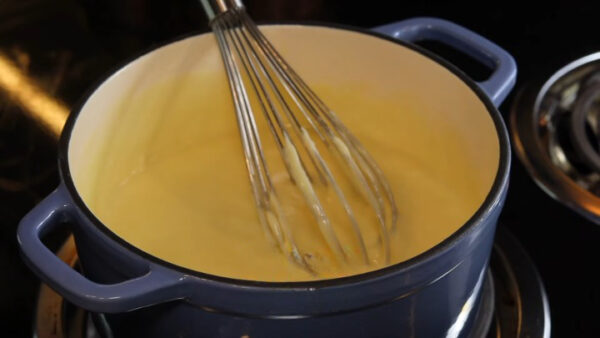 Provolone Substitutes
If you have the resources and availability, I'd highly recommend using Provolone del Monaco. If you would like something you can pick up locally that doesn't cost $50/lb – we've got you covered:
Aged Provolone – Any provolone you can find of even moderate quality should be more than adequate for this recipe
Fontina – Another Italian D.O.P cheese with a sweet and nutty flavor that is a drop-in replacement for Provolone in almost all situations. This is the top alternative if Provolone is off the menu.
Gruyere – It's a classic fondue cheese, and the flavor is nutty like Provolone. Even though it's not Italian, this would be a great substitute in this dish
Gouda – I'd avoid smoked Gouda, but other varieties should work reasonably well. Older gouda would have a stronger flavor, so depending on how much you like it you may want a young gouda instead.
Mozzarella – Maybe not the most ideal fondue cheese by itself, and probably a bit too light flavored for this dish – but it would definitely be good to blend with any of these other cheeses
Basil Oil
Infused olive oils are like a cheat code in Italian cooking(or any cuisine really). The flavor of your ingredient just needs to compliment the flavor of the oil, and that's pretty easy to achieve. The oil then distributes the infused flavor everywhere. Garlic, rosemary, and hot pepper are my usual go-tos, but in this recipe we'll use Basil. I love basil, so I apply this oil garnish fairly liberally.
All you need to do is take some fresh basil, a pinch of salt and pepper, and an ice cube and blend that with the oil until it is totally smooth. That might take a while depending on the quality of your blender!
You can keep homemade infused oils in your refrigerator for up to 3 weeks when you use fresh ingredients. When you use dried herbs it will last even longer. The maximum flavor starts to trail off after 3-4 days, so it's better to use them quickly. When the oil starts to get cloudy, it may not be "bad" in the sense that it would make you sick, but it's probably time to go ahead and toss it.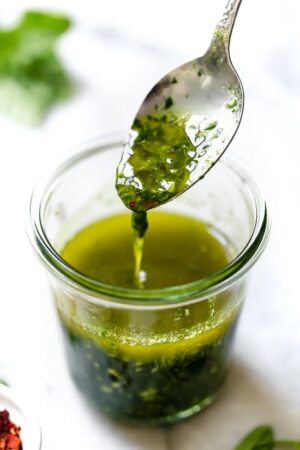 Corbarino Sauce
The sauce in this recipe is unusually thin. It is not at all like a marinara you are used to making. We want the predominant sauce texture to be from the fondue while capturing a rich tomato flavor. This is why corbarino tomatoes are so perfect for this dish – they are exceptionally sweet and flavorful. Even with a thin sauce the flavor shines through.
We'll be using canned/jarred corbarinos, and they'll start by going into a mesh strainer above a bowl. Using tongs, squeeze the liquid out of each tomato, and put the tomato pulp into a separate bowl. We'll sautee the tomatoes in a large pan with olive oil and garlic over medium heat while the water comes up to a boil and pasta cooks. Be careful to avoid burning them which will be easy without the liquid that we removed.
The sauce cooks while the pasta is boiling. As the pasta is approaching the 3/4 cooked mark, ladle about 1.5 cups of boiling water out of the pot and into the pan with the tomatoes. Let that simmer for a minute or so, then put it all in a blender and blend until it is velvety smooth. The sauce is very thin after the cooking water is added, but if it seems too thin you can add up to ½ cup of the drained liquid from the strained tomatoes.
Finally, put the sauce back into the pan, quickly bring it back to a simmer, then put the pasta in with it to finish cooking in the sauce. You may wonder why we don't just add the sauce to the pasta after it's done cooking? It makes the pasta absorb the sauce, and makes it taste that much better.
Corbarino Substitutes
I would encourage you to find corbarino tomatoes online if you can't find them in your local Italian deli. They are fleshy and flavorful in the shape of an oversized grape tomato. These tomatoes grow in Corbara municipality in Italy nestled in the Latari Mountains.
While Corbarino tomatoes are really perfect for this dish, if it is not easy or economical to get ahold of them you'll be fine. Datterinis are definitely my top substitute if available, followed by San Marzanos. Another fantastic alternative would be the Cherry or Grappolo Pachino tomatoes, although they are harder to find than Corbarinos! If not, whatever cherry tomatoes are sold in your local grocery store or farmers' market will be great.
We wrote a detailed guide to corbarino tomatoes if you want to learn more, including where to buy them online, a full list of substitutes, and other recipes that they're great in.
Spaghettoni
Spaghettoni is the prescribed noodle for this dish, which is simply a slightly thicker diameter version of spaghetti. Just like Capellini is a slightly thinner-diameter version of spaghetti. You can use whatever long noodle you'd like – we like that there is a little extra room between the thicker noodles when making a nest for the sauce and fondue to hide.
For best results, be sure the packaged pasta that you use is extruded through bronze dies. It will be noted on the package. The bronze dies "roughen the pasta exterior" allowing the sauce to cling more easily.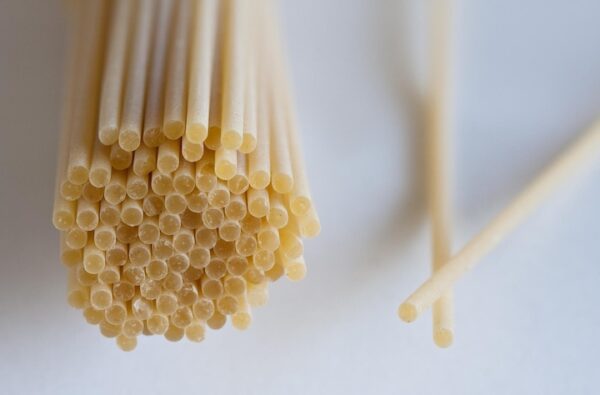 Recipe Card
Spaghettoni with Corbarini Tomatoes, Provolone Fondue, and Basil
August 17, 2022
: 4 - 6
: 30 min
: Easy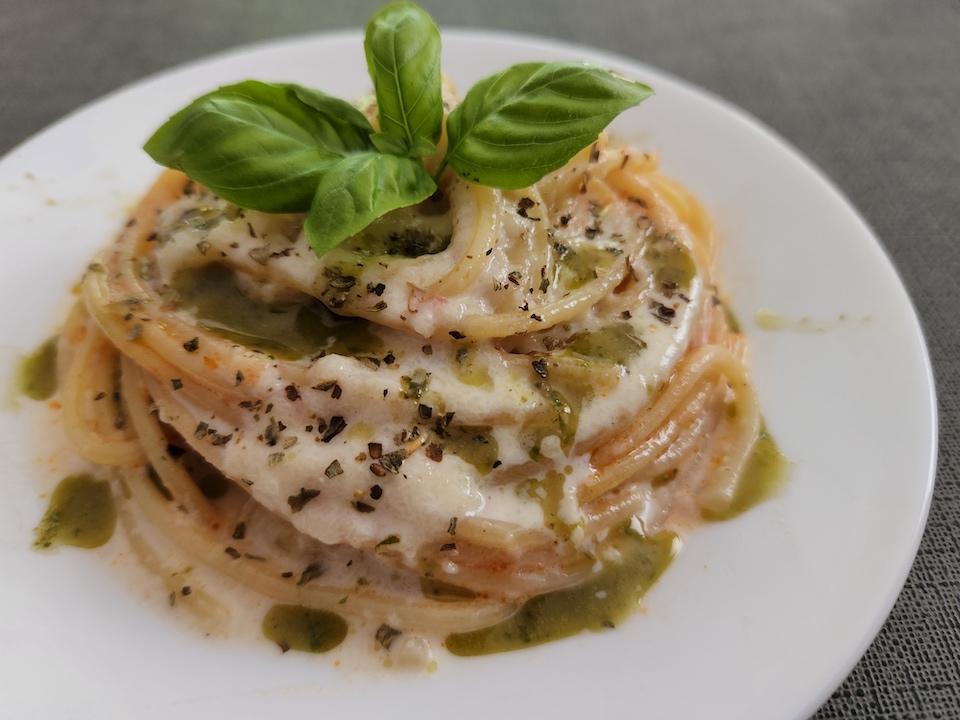 Ingredients
1 lb (400 g) Packaged Spaghettoni (or spaghetti
2 14 oz (400 g) cans of corbarino tomatoes
8 oz (225 g)Provolone del Monaco (or aged provolone.)
3 ½ oz (100 ml) Fresh cream
1 ¾ (50 m)l Milk
1 or 2 Garlic cloves
Extra virgin olive oil
Basil to taste
Salt to taste
Black Pepper to taste
Directions
Step 1

PROVOLONE FONDUE
Place grated provolone in a double boiler (or bain-marie) and add the fresh cream, milk, and black pepper. Use low-medium heat to heat water in the bottom of the double boiler. Stir continuously until you have a completely blended homogeneous cream, being sure that the fondue mixture doesn't burn or stick.

Step 2

BASIL OIL
Pour the extra virgin olive oil into a blender. Add a pinch of salt and pepper, basil, and an ice cube. Thoroughly blend until you have a smooth liquid.

Step 3

BASIL POWDER
Place dried basil between your palms and rotate your hands to pulverize the dried basil further.

Step 4

SAUCE & PASTA
Empty the corbarino tomatoes into a sieve sitting above a bowl. Gently squeeze the tomatoes one at a time with tongs. Set the drained liquid aside in case it is needed later. Carefully pour the drained squeezed tomatoes into a large frying pan with the oil and garlic. Start boiling a large pot of water to cook the packaged spaghettoni. While the water is coming to a boil, you can pull the skin off the tomatoes (if they're not already peeled) with tongs while they cook. When water is vigorously boiling, add salt and pasta. Cook the pasta for ¾ of the time listed as cooking time on the package. A few minutes *before* the pasta is ¾ cooked, remove boiling water with a ladle (about 1 ½ cups) and pour it into the frying pan with the tomatoes. The sauce will be very thin. Allow the sauce to come back to a simmer but not a full boil. Pour the tomatoes into a large blender and blend until velvety smooth. Return to the pan and bring back to a simmer. As soon as the pasta hits the ¾ cooking time, remove it from the pot, strain it well (do not rinse), and place it into the frying pan with the sauce. Mix the pasta with the sauce until the pasta is coated and let it finish cooking in the frying pan, stirring occasionally.

Step 5

PLATING
When the pasta is cooked plate the pasta by using a large fork to create a "nest." Warm up the provolone fondue. Spoon the fondue on top of the nest and let seep in. Add basil oil drops around the nest to taste. Finally, sprinkle the powdered basil on the nest and place a small stem of basil on top for garnish.
Source:
Fredrico Gatto