This is a really simple pasta dish for two that lets the sweet datterini tomatoes and the salty pancetta do all the work.
Pancetta
We start this recipe by making crispy pancetta. This provides two things: salt and fat to make the dish taste amazing and a different texture so your mouth doesn't get bored.
You'll want to start with some thick-sliced pancetta. When I go to the deli I usually just throw up my fingers and the guy will work from there. To be more specific, I usually aim for about a quarter-inch slices. This will maybe end up with 4-6 slices per pound. If you're only buying enough for this dish, you might aim for two slices.
The pancetta slices will come in a circle, but you can unravel it and it will kinda look like traditional bacon. To "cube" it, we'll slice across these strips at about the same width as the thickness of the slices (a quarter-inch).
When sauteeing the pancetta, we want to make sure to cook it fully, but not overcook it. Really what you're looking for is for all the fat to lose its translucency. Really tiny bubbles on the fatty parts of the pancetta are a good sign to look for to know that it's fully cooked. The pancetta will continue to cook after this initial step when finishing the pasta, so pulling it off before overcooking is important.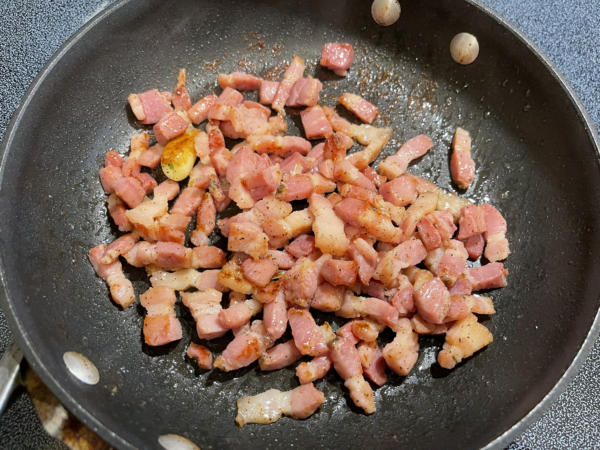 Note: we like to add full garlic cloves in with the pancetta, but you could just as readily cook the garlic with the sauce. Either way, the garlic ends up being processed smooth with the sauce, but this way the pancetta will get a bit of the garlic taste in it!
Substitutes
Pancetta is really the way to go here, but if you don't have that readily available you can try with thick sliced American bacon, or possibly guanciale. Guanciale is somewhat like a very fatty version of pancetta so sauteeing it is going to result in a different texture, but it should have a similar effect on the flavor.
Datterini Sauce
We really love datterini tomatoes. They're some of the sweetest tomatoes you can find but have a really rich flavor. They're the star of this dish.
The sauce we'll be making is really straightforward – we'll cook some onion and garlic with the tomatoes and basil, then after everything has had some time to break down and get happy toss it in the food processor to make it nice and smooth. To finish, we'll end up adding a little water and cooking the pasta for the last few minutes. It can be a little tricky to get the consistency right. Ultimately we want it thick enough to clump up a bit on the pasta, and thin enough to withstand a couple of extra minutes of cooking.
In this recipe, we're using canned datterini tomatoes, primarily because we haven't been able to track down any fresh datterinis where we live (the hunt continues…). The canned have all the same amazing flavor, but the texture isn't quite the same. If you're able to get ahold of fresh datterini, the modification to this recipe is simple – just cook them longer before blending.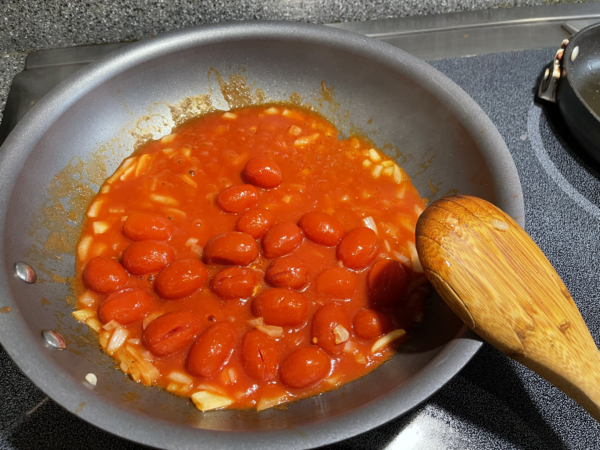 A note of caution: because of the sugar content of the datterini, it's fairly easy to burn this sauce. Err on the side of caution, and when in doubt, keep the heat on the lower side.
Substitutes
Datterini tomatoes aren't the easiest to find, so any small, sweet tomato would be an appropriate substitute. Corbarino and Cherry or Grappolo Pachino tomatoes certainly fit the bill, as do Piennolo del Vesuvio if you happen to be able to find them. If you're looking for something simple – any cherry or grape tomato you can find at your local grocery store will do.
Shallots are a pretty obvious replacement for onions and/or garlic, if you have a preference for them or if it's what's on hand.
Paccheri Pasta
Paccheri is not a type of pasta that I frequently cook, but after this recipe that may change. It's like a shorter, smooth version of rigatoni with a wider opening. Wide enough for one of the datterini tomatoes and some pancetta to easily fit inside of!
A key to cooking paccheri is to not cook it completely in boiling water, but to cook it most of the way and then finish it in the sauce. Being so wide open, this helps the sauce to soak into the pasta quite a bit, so that every bite has plenty of flavor.
Substitutes
Pretty much any tube pasta can be readily used in place of paccheri – rigatoni, penne, ziti would all fit the bill. Rotelle could work too, capturing the chunks of pancetta in the spokes of the wheels.
Storing Leftovers
This recipe is designed for 2 servings, and you really shouldn't have leftovers. If you live alone, invite a friend over and cook for them! If you really, really aren't going to finish the dish that's ok – you can keep it in the fridge for a few days. Splashing a few drops of water on it and microwaving covered with a wet paper towel should do the trick for reheating.
Recipe Card
Pasta with Datterini and Pancetta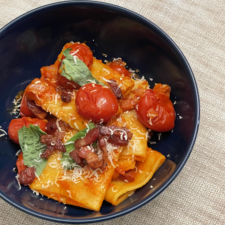 Ingredients
1/2 lb paccheri pasta
2 14oz cans Datterini whole tomatoes
1/3 lb pancetta (thick slice)
1/4 cup parmesano reggiano cheese
1/2 small yellow onion
3 cloves garlic
fresh basil
olive oil
salt
pepper
Directions
Step 1

Cut the pancetta into strips roughly 1/4 inch by 1 inch. In a small amount of olive oil, sauté with the whole garlic cloves over medium heat for 5 to 10 minutes until until crispy.

Step 2

Finely chop the onion and brown it in a large pan with a small amount of olive oil, sauteeing over medium-high heat for 3-5 minutes. Add the cans of datterini tomatoes to the onion, season with salt and pepper, add a few basil leaves, cover, and let simmer for 5-10 minutes.

Step 3

When the tomatoes are wilted, pour them and the garlic (from the pancetta) into a food processor or vegetable mill to obtain a smooth and homogeneous puree

Step 4

pour it into the pan with the pancetta and simmer on low heat.

Step 5

Cook the pasta in salted water for 3-4 minutes less time than instructed on the package. Drain and pour the pasta into the pan with the puree, retaining some of the pasta water. Finish cooking the pasta by adding a little cooking water and sauteeing for another 3-4 minutes, or until the pasta is al dente.

Step 6

Stir the pasta with the grated Parmesan and add fresh basil broken by hand

Step 7

Serve immediately adding the crispy bacon, more cheese, and a few basil leaves.
recipe adapted from: Mister Mario