Zucchini Pesto is the star of this dish, pretty much everything else is replaceable with whatever you want. This recipe is for an elegant-looking pasta dish that is fast and easy to make.

Modifications
Anything and everything, except the zucchini.
Pasta: we use spaghetti here, but you can pick anything you want! The pesto is delicious, so the more space in the pasta for the pesto to hide, the better.
Meat: pesto goes great with shrimp, but you could just as easily use chicken, salmon, or even pork.
Tomatoes: we often default to cherry tomatoes, but any small tomatoes should work just fine – just make sure they taste great. If you prefer a sweeter, richer flavor, try datterini tomatoes instead
Storage
Pesto stays in the fridge for about a week after you make it. You can get away with several months in the freezer. In either case, make sure to put it in an airtight container, and the less space you leave in the container, the better. Another nice way to store is to freeze in an ice cube tray, and then you thaw just enough for however many servings of pasta you want to make. Maybe
Recipe
Spaghetti with Zucchini Pesto, Shrimp, and Tomatoes
May 29, 2017
: 3 - 4
: 30 min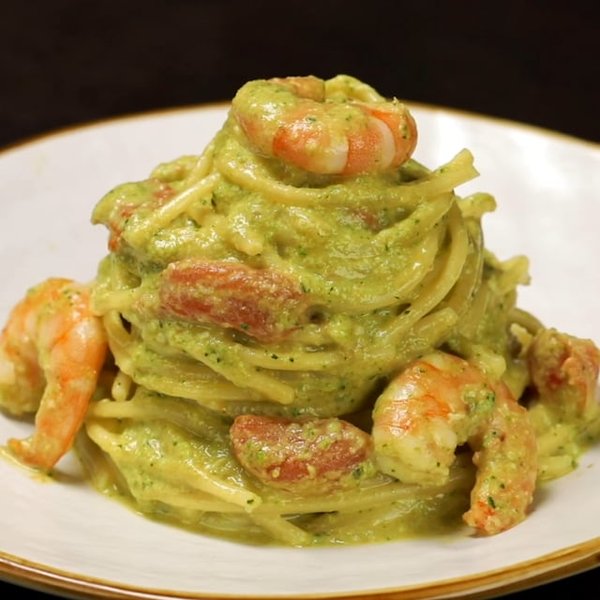 Ingredients
1 lb spaghetti
1/2 lb shrimp
1 1/2 c cherry tomatoes
1/2 c grated zucchini
1/4 c Pecorino Romano
1/4 c Parmesan cheese
8 large basil leaves
1/3 c of pine nuts
4 oz extra virgin olive oil
Salt to taste
Directions
Step 1

Cook spaghetti al dente, set aside in colander.

Step 2

Grate the zucchini add pine nuts, basil, parmesan cheese, pecorino cheese, 3 oz olive oil, and blend in a blender until creamy.

Step 3

In a frying pan, add the remaining olive oil and 1 clove of garlic, and brown the cherry tomatoes.

Step 4

After 4 minutes, add shrimp and cook until they have a rosy appearance (2 to 3 minutes), then add spaghetti.

Step 5

Turn off the heat and add the zucchini pesto, then add a small amount of the spaghetti cooking water to moisten if necessary.
source: Altacucina.co/
Video guide – in Italian but helps with preparation