Zabaione, like panna cotta is an Italian custard dessert from the Piedmont region of the country. Whereas panna cotta is quite firm, Zabaione is a very light custard, sometimes even prepared as a drink. If you think of eggnog, you won't be too far off. In this recipe, we will serve it half-frozen so it has a firmer consistency than usual.
History of Zabaione
The origin of this dish goes back at least to the latter part of the 15th century, but there is some controversy surrounding its true origin. Zabaione was known in cities across Italy, with early recipes found in Piedmont, Naples, Tuscany, and Emilia-Romagna. It eventually made its way to French cuisine as "sabayon". It's also enjoyed in several countries in South America as "sambayón" or "sabajón" depending on where you are.
Notes
This recipe takes time and effort, but the combination of ingredients is worth it.
Modifications
Booze – We use Marsala and Spumante wine in this version, but any sweet Italian wine would be fine to use. Also, you can add other, stiffer spirits such as cognac, rum, or grappa. This can be made without alcohol for kids or those who abstain, but it's really not going to be the same thing, and the typical replacement would be espresso.
Topping – A simple chocolate sauce is used in this recipe, but you might try caramel or fruit like strawberries, blueberries, or peaches,
Recipe
Half Frozen Zabaione with Almonds & Chocolate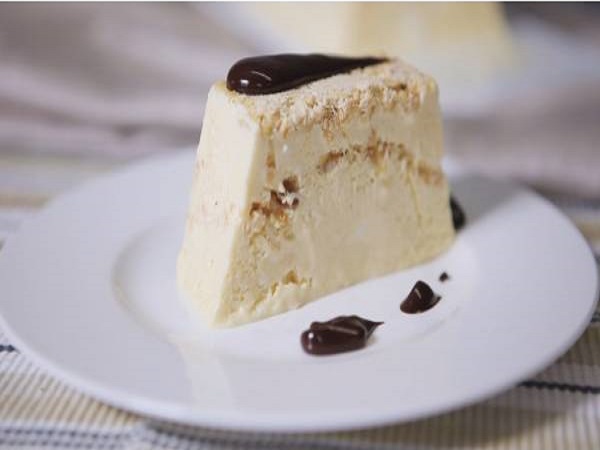 Ingredients
ZABIONE
6 egg yolks
1 cup (180 g) sugar
1 3/4 oz (50 ml) Marsala wine
1 3/4 oz (50 ml) Spumante wine
14 oz (400 ml) cream
3 1/2 oz (100 g) peeled almonds
2 tsp unflavored gelatin
CHOCOLATE SAUCE
5 oz (150 g) dark chocolate
1 3/4 oz (50 ml) milk
Directions
Step 1

Roast almonds in the oven at 230° F (110° C) for about 20 to 30 minutes, until slightly golden. Let them cool and then roughly crumble in a food chopper or processor.


Step 2

Sprinkle 1 tsp of gelatin on the cream, stir until thoroughly mixed then store it in the fridge.


Step 3

In a mixing bowl make the zabaione by stirring with a whisk (or use an electric hand beater), six yolks with sugar. When it is smooth and creamy, add Marsala and sparkling wine, mixing until they are well blended.


Step 4

Place the mixing bowl into a double boiler, large enough to hold it, with very hot water, but not boiling. The pot must not touch the water, the hot steam will be enough to "bake" the zabaglione mixture. Keep stirring for seven to eight minutes until it is smooth and thick.


Step 5

Remove the bowl from the double boiler, continuing to stir while adding 1 tsp of gelatin. Place the pot in a container with cold water and continue to mix gently with a whisk until the mixture is cold.


Step 6

When the mixture has cooled, add half the whipped cream and incorporate it into zabaione with delicate upward movements. Then add the remaining cream and mix until thoroughly blended.


Step 7

Take a 10" by 4" (25 cm x 10 cm) silicone (or aluminum) bread baking pan and distribute half the toasted almonds. Then pour half the mixture, the rest of the toasted almonds, and finish with a final layer of the mixture. Cover tightly with the cling wrap and put in a freezer for at least four hours.


Step 8

In a pan, over low heat, melt the dark chocolate, stirring constantly until melted, then add milk while continuing to stir. Remove Zabaione from the freezer, cut it into serving size, and place it on a plate. Drizzle chocolate over it.
source: http://www.star.it
Video guide (in Italian, but helps with preparation)